theICEway, theCRUISEspecialists

To all our friends travelling on theICEway,
We are looking forward to saying hello to you at Seatrade Global!
This year is set to be a very important one for theICEway, as we embark upon a new journey of discovery.

As a traveller on theICEway, we wanted to tell you first about our plans for a new brand identity, which we will reveal on our stand (#2215) at Seatrade Global in Miami in April. Members of our fantastic team will be on hand to discuss our ecosystem of companies, which combine to provide a complete IT Solution for cruise.
theICEway, working with your IT Teams to deliver:

Technology Projects
Cloud Strategy
Application Managed Service
theICEway will be sharing our stand (#2215) with Getslash, an international technology company with an extensive product portfolio that provides guests with a seamless and personalised experience on board cruise ships. On our stand you will find a direct line into some of the sharpest minds in IT for cruise, as well as refreshments – which we know are all-important!

Please take the time to stop by our stand, to see how theICEway can help provide value for your company. We would also like to welcome you to our booth for drinks on Tuesday, April 21st, 2020, between 4:30 and 5:30 pm.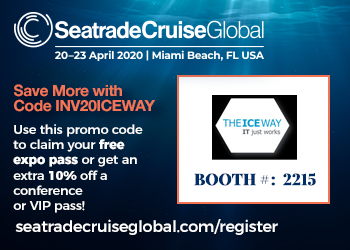 If you are still yet to register for Seatrade Global, then we would like to cordially invite you and offer you our promo code for a FREE expo pass or an extra 10% off a conference or VIP pass:

INV20ICEWAY

We look forward to seeing you there!

The team at theICEway