It has become something of a tradition for the people of theICEway to gather together in celebration. Christmas parties aside, it is not often that a company brings its staff together for an event. At theICEway Summer Party 2023, our amazing teams showed exactly why we're much more than an organisation. We are very much a family, and here we look back on what was a fantastic day.
Ping Pong, Pool, Pub Vibes & Painting
Not content with commandeering an entire pub for the occasion, Ian Richardson and Conor Byrne also put on quite a show. Our fun team can take a lot of credit too, with the activities on offer including:

- Ping pong (aka 'table tennis')
- Pool
- A retro arcade machine with over 1,000 games*
- An inflatable assault course
- Football (complete with an inflatable goal)
- Live entertainment from a very talented magician


A special shout must also go out to Finance Director and Company Secretary, Malcolm Taylor. Malcolm organised a fantastic water colour painting station, which then led to a competition. This writer failed to place, so we'll end this section on that rather sad note. All joking aside, what did our team members make of these 'drinking diversions'?
Feedback From The Team
Asa Sargeant, Marketing Manager: "It was another fantastic event with so much going on and so many great people involved. It is always nice to see these people outside of work, and even better when you have the chance to lose to them at ping pong!"
Tracy Fletcher, Head of Operations: "What a great team and what a day. A huge thank you to Conor and Richie for once again going above and beyond. The activities were great fun and the food was excellent – I have said it before but I really do love theICEway!"
Freddy Loft, Service Delivery Manager: "A really fun day, with a great spirit and atmosphere. Thanks to everyone for attending and making it a special day. A specific shout-out to Malcolm and his painting competition, everyone got involved and really enjoyed it!"
Laura Barton, Finance and Business Support Officer: "There is a lot of pressure when planning a company event as all you want is for people to enjoy themselves. I'm so proud of what we (the fun team) achieved with theICEway Summer party 2023 and I think it was an awesome success!"
Owen Redmond, Co-Managing Director: "An amazing day with some great people. I've recently relocated to the UK and this was just what I needed to finally relax a little. A huge thank you to Conor, Richie and the fantastic fun team for organising everything. The Summer party for 2024 has a really high bar to aim for, that's for sure!"
*It surely goes without saying, but Street Fighter 2 was the only game that really mattered.
A Family Affair
We really do see each other as a family. It should therefore come as no surprise to hear that there were several actual families in attendance. Children were also involved, although the adults gave them a real run for their money where the inflatable assault course was concerned! Age aside, all of those present were 'wowed' by the exploits of magician Sean Bless. Bless made his way from table to table, performing a wide range of card tricks. Ranging from simple to extravagant, it was difficult for those watching not to react in the manner seen in David Blaine videos. At this point it seems only fair to give Malcolm another shout-out. His painting equipment was put to great use by almost everyone in attendance, with the younger guests certainly seeming to have a great time. With all of the physical activities on offer, food soon became a key consideration. Lunch duly arrived in the shape of some delicious meats, salads and pizzas, before a finger buffet bore the brunt of a stampede later on in the evening.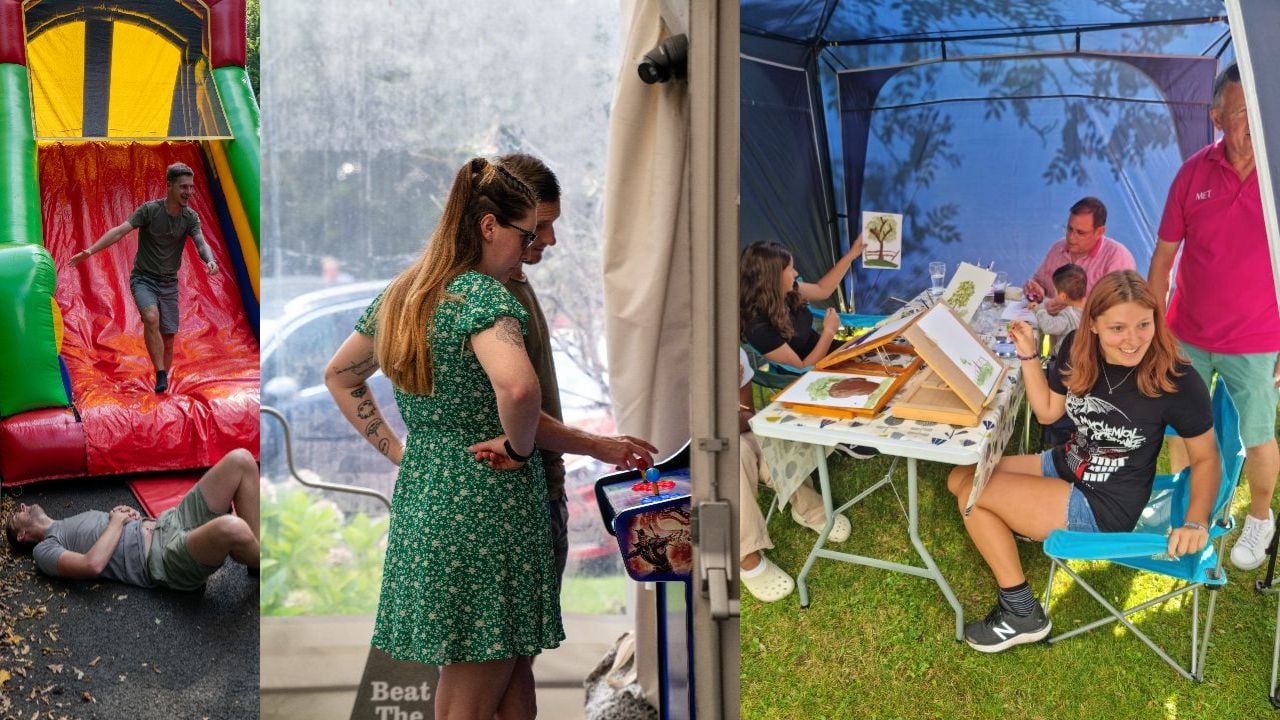 TheICEway – 'Social' Is Much More Than Just A Buzz Word
It is very important to us that our people feel involved and part of a very special team indeed. After all, without their efforts we would not be in the position that we are. Therefore, we place real emphasis on socialising and on creating a warm atmosphere no matter where we are. That is not to say we do not know how to put in the work. On the contrary, we have become known for our diligence and integrity. We'll always do whatever is required to complete a project, no matter the scope. Again, this is very much the result of having the best people on board.

For more of our amazing team's outside-of-work exploits, follow us on social media:

LinkedIn

- ICE
- theICEway
- CRIBB Cyber Security
- eTestware


Twitter

- theICEway
- CRIBB Cyber Security
- eTestware


Enjoyed this piece about theICEway Summer Party 2023? Then you might like to read the following article:

The people at theICEway – our greatest asset (a summary of the 2022 Summer party)