The Seatrade Cruise Awards took place at the CLIA Germany Gala Dinner last week, during Seatrade Europe. ICE Technology Services were delighted to act as principle sponsors for the prestigious event, with awards selected by a panel of experts and industry winners on the night listed here:
• Destination of the Year – Cruise Baltic
• Supplier of the Year – DeCurtis Corporation – Online Booking Platform
• Marine Interior Design of the Year – SMC Design for Saga Cruises' Spirit of Discovery
• Port of the Year – Zadar Cruise Port, Croatia
• Environmental Initiative Award, sponsored by MedCruise – Hullwiper Ltd – Remotely Operated Underwater Vehicle
• Marketing Initiative of the Year, sponsored by Cruise Baltic – Caribbean Village – Cruise Marketing Platform
• Innovative Shorex of the Year Award – Abercrombie & Kent (Akorn) – Incubating Vidigital Entepreneurs, Rio de Janeiro, Brazil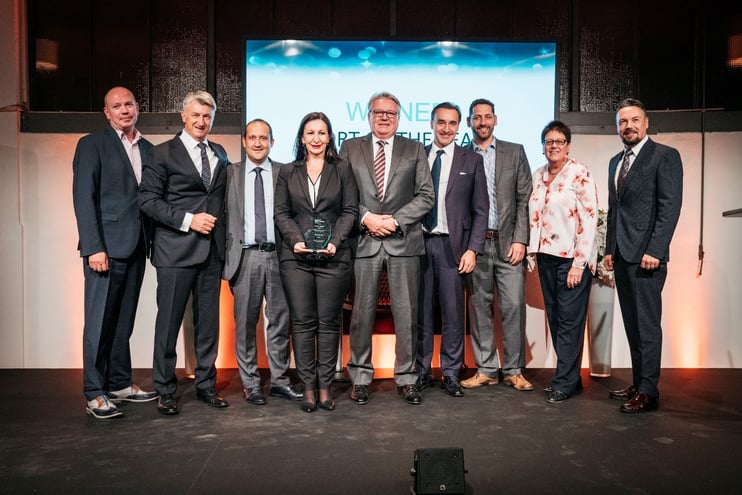 Port of the Year winners – Zadar Cruise Port, Croatia
According to Mary Bond, Group Director at Seatrade Cruise, the awards received a record number of entries once again, a clear illustration of the global reach this renowned award scheme has. Bond presented the event alongside Ingo Soerensen, Area VP for Global Cruise Sales, Oracle Hospitality and Ian Richardson – CEO and Co-founder of ICE Technology Services – Principal Sponsors of the Seatrade Cruise Awards.
Following the industry awards were two Personality Awards, which went to Rudi Schreiner, President and Co-Owner of AmaWaterways (Outstanding Contribution Award), and Robin Shaw, CEO of Saga Travel (Seatrade Cruise Personality of the Year 2018).
Now in its 13th edition, the Seatrade Cruise Awards celebrates the very best of international cruise industry success and innovation, itself always striving to deliver on the latter; indeed, this year saw the inclusion of a brand new category in the shape of 'Marine Interior Designer of the year'.
Mary Bond signed off the evening by thanking the principle sponsors, Oracle Hospitality and ICE Technology Services, mentioning TheICEway – ICE's ecosystem of companies that combine to provide an end to end solution for clients. We have more than 20 years' worth of experience and our consultants and engineers combine their expertise with the most advanced technology available in the market. We have offices located in London, Tallinn, Melbourne and Miami and we work alongside clients in Europe, Australia and the United States. Like Seatrade Cruise, we too are always looking to innovate and we are dedicated to cementing our position as the World's leading cruise technology specialists.