Last month I headed to sunny Norway to ensure the IT was setup and running smoothly ahead of the maiden voyage of MS Spitsbergen. The ship was reconstructed and converted by Fosen Yard at Rissa in Norway, and we were also joined by the team from Oracle Hospitality Cruise (OHC), which was implementing its solutions.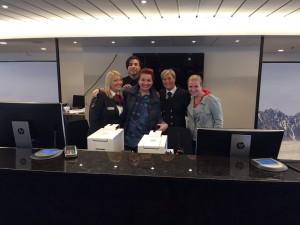 I still find it exciting to be involved in this sort of project, ensuring the smooth roll-out of the entire IT system, and helping to get a vessel ready for its maiden voyage. It was also a great deal of fun working with some amazing people of course!
The project involved a number of elements, so each day was kicked off with a meeting with the various project teams. I coordinated the deployment of the Oracle Hospitality Cruise products, as well as making sure that the SPMS modules were configured properly to reflect vessel architecture and operational needs, such as cabin configuration, excursion pricing, ship itinerary, etc. I also ensured the smooth transfer of data between Seaware (by Versonix) and the OHC software to ensure no errors in the passenger data.
Coordination with various vendors in the deployment of the TV and phone systems was also an important part of the ICE Consultancy team role before voyage, as was the installation of hardware relevant to each product line, including in the restaurant, bar, shop, reception, and all offices. Once installed, I fully tested the hardware performance to ensure everything was working as it should be. I also monitored and assisted with the end of the day audit processes.
Ensuring the point of sale (POS) areas were ready involved configuration of PayPoint devices to support various credit card payments and adjusting page designs on the POS stations.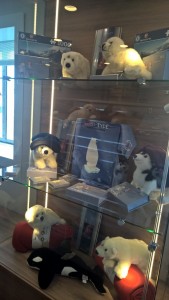 With the IT all setup across the entire ship, data verified, and everything working smoothly, I ensured those left to operate the system moving forwards were up-to-speed with training and ready to take on that mantle.
As we prepared for embarkation day, we were under control with the IT system, so I found myself harking back to my days in retail and helping dress the shop windows!
And when the day finally came, it was great to be involved in the maiden voyage and offer hands-on assistance with the smooth running of the IT systems. And of course, it was pretty exciting to watch her setting sail for her first voyage!
If you would like to experience the MS Spitzbergen take a look here https://www.hurtigruten.co.uk/our-ships/ms-spitsbergen/