Last week we spoke with our very own Lois about her remote working routine, and we thought it would be useful over the coming weeks to shed light on some of the other routines the various team members have put into place recently. We begin today with Owen and James, two people with ever-so-slightly slightly different working days…
Owen, before we dive into an average 'isolation working day' for you, how have you taken to working remotely? Is it something you were fairly familiar with beforehand?
Yes, it is something I've experienced quite a lot of actually. I'm based in New Zealand but working UK hours out of theICEway's Australian office, so with the time difference I quite often find myself sat at my desk at home speaking with the guys in the UK, in Tallinn and across Europe. It's quite a different story when you have to work remotely though, as opposed to choosing to – at least that's what I found in the very beginning.
Until you came up with a remote routine?
Exactly! My routine is probably a bit backwards because of the time difference but here's an average working day for me right now:
• Dinner with the family
• A 1-hour 'power' nap prior to starting work
• Preparation time, gathering thoughts, tackling any last day issues, writing up a task list for the day ahead and reviewing / responding to emails
• Straight into it! But I will definitely make sure that I have 2 mini breaks to drink some water and have a snack
• I'll also take a 15-minute break for meds and to feed my young one
It sounds like you have quite a lot on!
I do but once you have that routine, everything becomes a lot easier to manage.
You said about taking breaks, but do you also take time out for lunch?
I personally don't take lunch as it makes my shift too long, but I would suggest that other people take lunch and that they do it away from the desk, even if it's only for 10 to 15 minutes.
What about when your working day is at an end?
At the end of the shift, I try to read or listen to something that is of interest to help me wind down and switch out of work mode. I think that is important, it's a bit like when your exercising and you take a warm-up to start with and a warm-down when you're finished.
Interesting comparison there Owen, thank you – I think we'll be looking at exercise in a little more detail with another team member from theICEway but before we do, any final tips from you?
Other tips, or at least things I try to do, are:
• I do not have social media or personal emails open because they are too much of a distraction
• I do check the news, it's impossible not to right now, but as soon as I have had a look, I close the window on my PC so that it doesn't distract me any further
• I definitely make sure that the family know I am not available except for very important things – after all, I'm still at work even though I'm in the house!
• I also have a place to go to, which I have set up as my work space; I find it helps with my mindset much more than if I were sat on the couch
• Something else I do to get into 'work mode' is to change into a formal shirt because I have found that the physical change helps me to recognise that I'm shifting into work mode
• I'd also encourage people to make reasons to chat with colleagues. I'll chat to 5 or 6 people every day even if I don't have much to speak about!
Anything else that might help from a technical standpoint?
One thing that helps me to save time is downloading large files so I can work on them on the local PC, before uploading them once I am finished.
Any last tips?
That's about it for me, pretty boring but it works!
Owen Redmond is Sales Director for theICEway, and he is extremely passionate when it comes to helping clients identify the best and most suitable technology solutions to meet their digital strategy. He was one of the very first people to offer information on his newly-adopted work regime when we decided to focus upon remote routines, and has vowed not to let COVID-19 keep him from offering the same level of customer service to his clients, both old and new.
James, we've heard from Owen about his daily routine, but you have come up with something very specific to help you stay focused during this difficult period. Can you tell us what that is?
Before we went into 'lock-down', a new gym had just opened up in town and I got to use it for all of 2 weeks before we had to start isolating ourselves. I decided that I had to keep myself active, so I looked in my garden for anything I could use to replace some of the gym equipment.
That sounds very… imaginative. Can you talk us through some of your new 'equipment'?
The pull up bar is made up of the handle from an old broom – which is metal luckily so it can support my weight! – and the weighted bar is actually an old washing line from which I removed the arms. The weights are normally used around the legs of gazebos to keep them weighted down, and then I zip-tied some additional weight onto the ends. This piece can be used in all sorts of different ways, squats, shoulder presses, bent over rows, it's a very versatile piece of equipment!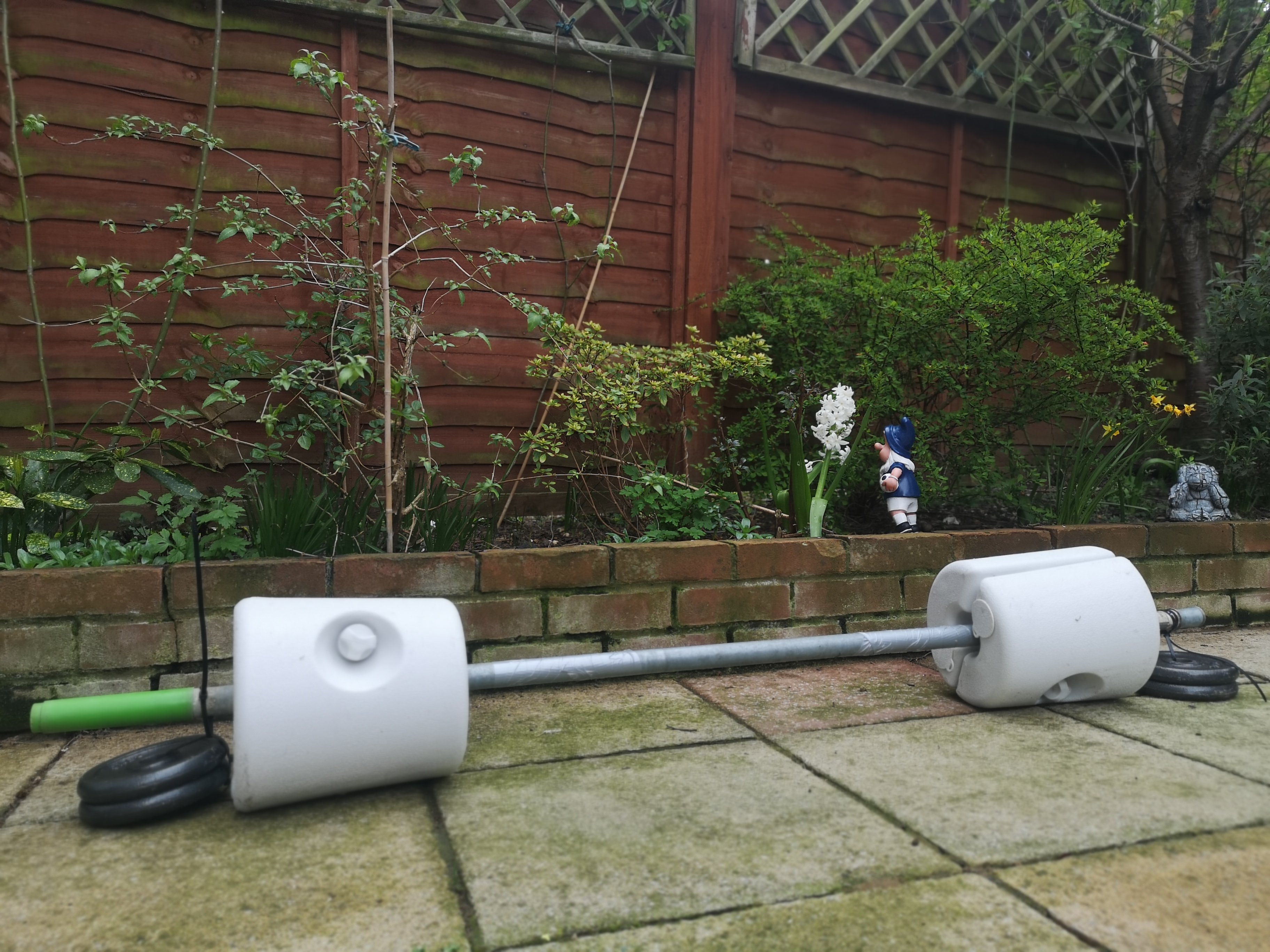 It certainly seems that being at theICEway has taught you how to be resourceful…
It's definitely helped me in that area. I've also used garden chairs weighted down with sandbags for performing dips, and I wrapped some cloths around the "handles" for comfort. In times like this it is really important for everyone to try and keep as active as possible; I've found that you do not realise just how much you move around when you are going into the office!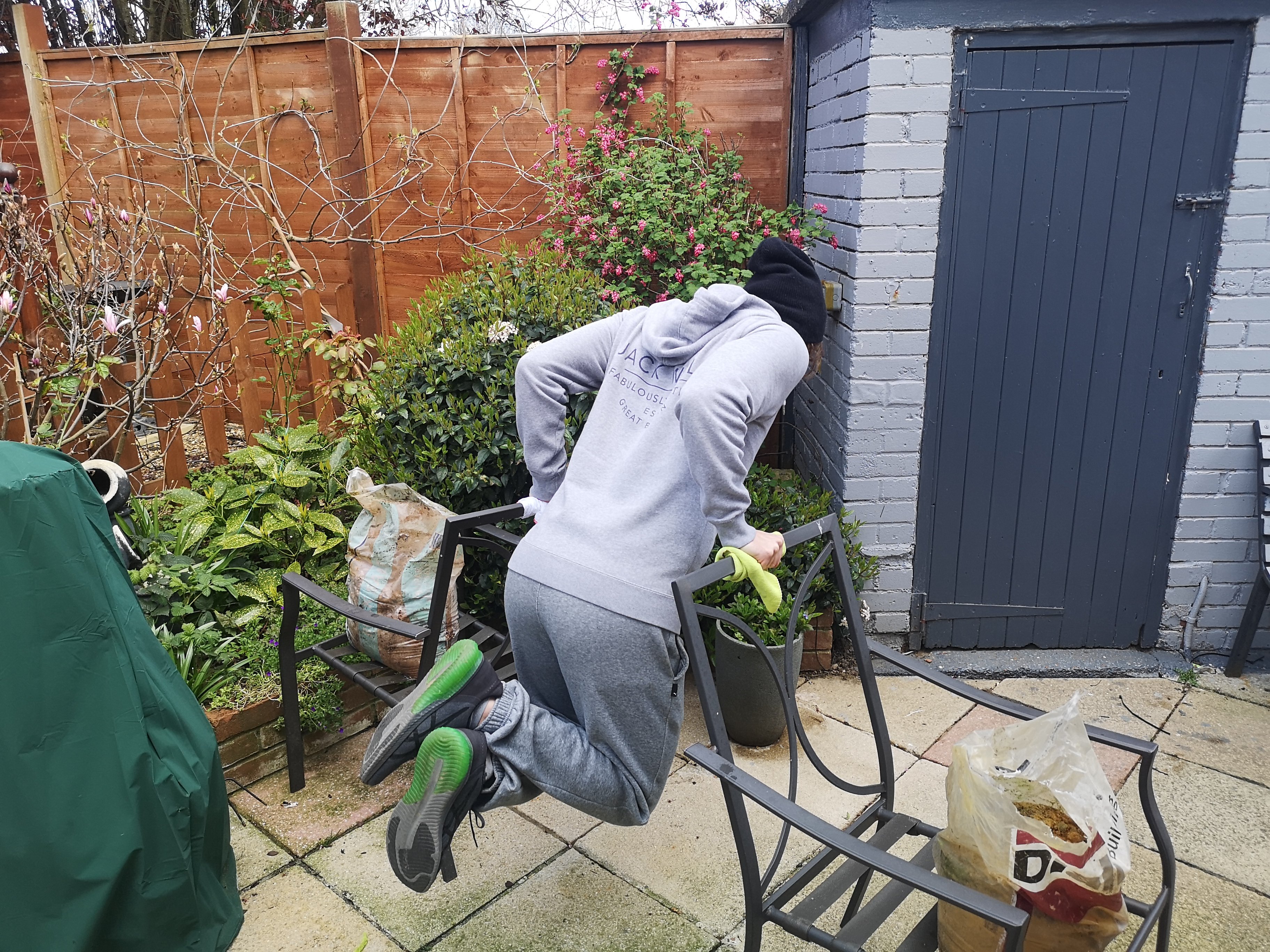 Have you created any other pieces that you can share with us?
Those are the main ones I am using for now but there will probably be more. The great thing though is that you don't by any means need to have any equipment to still have a good work out. Running, squats, lunges, push-ups and HIIT workouts can all be done without any equipment for example.
Thanks James – any final words?
I'm more than happy to help anyone with routines if they want a change or are stuck for ideas!*
James Reed is a Technical Project Manager / Engineer for theICEway and prides himself on not only keeping himself in shape, but also in providing a very healthy level of service to anyone calling for help.
*He is genuinely happy to create bespoke work-out routines for anybody that is interested and will not stop emailing ideas across. Please contact us if you would like to receive them – really, please give us an email address that we can give to James to use instead of ours...
Glossary
TheICEway – An ecosystem of companies that combine to deliver a complete digital solution for the healthcare, cruise & travel and retail industries. Our teams at ICE Technology Services, CRIBB Cyber Security and eTestware work with your IT teams to deliver technology projects, cloud strategy and Application managed service.
COVID-19 – A new illness that can affect lungs and airways and which is caused by a virus called coronavirus. The main symptoms are a high temperature and a continuous cough, but if you wash your hands with soap and water often, you can reduce the risk of infection.
Top Tip
The key thing right now is to stay at home and limit the amount of times that you go out as much as possible – remember, you might be able to fight this illness but those around you might be more susceptible.