"What are you drinking?"

"Guinness please"

The big friendly Irish guy I've just met for lunch in the pub cracks a huge grin and walks off to get two pints from the bar. It's the mid-90s, and I've met up with Conor Byrne, a rugby-playing Limerick guy who's lived in the UK for 10 years. He knows London better than I do as I've only been here for three years. We're meeting up because he might have a job for me in his IT department.

I wonder if I should be drinking at lunchtime during a job interview, but we don't talk much about my skills and experience. Instead, Conor wants to get to know me, he asks about my parents, brothers, likes, and dislikes. What I work out over time is that he is skillfully assessing my values and attitude. We find common ground everywhere and six pints of the black stuff later I leave the pub with two things: a job offer and a feeling I've made my first real friend since moving to London.
Back then, I could not have imagined that 20 years later Conor and I would be running a
global ecosystem of companies
spanning three continents with a worldwide reputation for being the best in our field.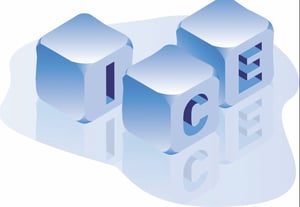 In 2007, Conor and I set up ICE Support Ltd, a small managed service company delivering IT support to a range of London based clients. We quickly developed three niches based on our domain expertise: Travel, Healthcare, and Retail. We are a service company, and our key selling point is rapid, high-quality delivery by always going the extra mile.


Ten years later and ICE has grown substantially to offer end to end consulting, development, delivery and management including cloud services within the three verticals we know intimately.
TheICEway Ecosystem
In 2017, we decided that to make our full range of services clearer we would segment them into separate company entities that can operate independently while sharing common values and goals. TheICEway ecosystem is made up of the following brands:
ICE Consulting - Most of our engagements are lead by highly skilled business analysts and project managers backed up by experienced technical architects.


AIVRLabs - Our research division focused on applying best of breed future technologies to our clients' digital strategy.


ICE Rapid development - Near shore development partners with with proven track record in providing agile solutions for our specific verticals.


eTestware - Domain specific, high scalable testing teams that work closely with our client's business users and the development teams.


Cribb Cyber Security - Ensures governance and data compliance for every successful solution.


ICE Managed Services - Provide best in class 24/7/365 dedicated technical support and continuous improvement.


Together these six brands form an end to end enablement platform of services that help guide, develop, implement and manage our client's digital transformation vision.

Our biggest verticals are travel and cruise, and we have some amazing clients and staff. Many of whom we have found and developed lasting relationships by working hard and drinking Guinness in bars and pubs all over the world. I have to say however that pints of the black stuff at lunchtime is no longer on the menu!

The shared values that Conor and I established all those years ago in that Carnaby Street pub are now part of our company policies and the most important one is Integrity.

When people ask us what ICE stands for I tell them the truth:
I is for Ian,
C is for Conor,
E is for Everyone else!

And this includes our fantastic staff and our wonderful clients.

Over the coming weeks I will be writing a series of blogs explaining each of the ecosystem's six segments in more detail so please stay tuned. If you would like to know more in the meantime, please visit TheICEway.com or reach out to one of our amazing commercial team.

Of course if you like the sound of this blog theme, please comment, post and share using the links below.